RightFax Monitoring, Alerting, and Analytics Made Easy
FaxPulse does error detection, alerting, and data analytics for you – so you can maximize your RightFax systems and keep your users happy.
RightFax monitoring and analytics done for you.
FaxPulse revolutionizes the management of RightFax systems by replacing manual tasks with an array of advanced predictive and analytical features, streamlining essential operations that affect system performance.
Equipped with real-time notifications and comprehensive fax data analysis, administrative teams can significantly reduce operational expenses related to their RightFax server system(s). Our comprehensive set of tools includes:
Advanced Business Insights
Reduce routine analysis time by 50% with the all-new Tactical dashboard and analyze fax data in perpetuity for optimized performance and improved business planning.

Automated Monitoring and Alerting
Safeguard your system against costly outages and predict possible points of failure with automated monitoring of every fax transmission with real-time email alerts.

24/7 Inbound Availability Testing
Remove manual testing and cut SLA fines with automated Pulse tests that ensure your RightFax system is always available to external fax traffic.
Engineered for peace of mind.
Experience streamlined RightFax system maintenance with our cutting-edge dashboards and a comprehensive range of over 100 fax monitors, allowing you to accelerate error response times, reduce management costs, and alleviate workloads. Regardless of whether you operate on a scale of 12 channels or 100, our suite of tools is designed to significantly enhance RightFax performance and efficacy.
Unique features and benefits:
Work with RightFax experts.  Because it was designed exclusively for RightFax, our FaxPulse expert support staff know the ins and outs of your maintenance needs.
Access from anywhere. With a 100% web-based platform, your administrative team can leverage our suite of tools anywhere.
Deploy in virtually any environment. FaxPulse is simple to deploy in virtually any server environments, and it is compatible with most RightFax versions. 
Single pane of glass analytics for optimized system performance
FaxPulse BI makes KPI monitoring simple and efficient with all-new dashboards and improved data capabilities. With this tool, administrators can:
✓ Alleviate data analytics workload with advanced data retrieval
✓ View daily RightFax KPIS quickly and accurately
✓ Uncover causes of failures and chronic system overloads
✓ Eliminate faulty numbers and reclaim unused DIDs 
✓ Examine fax trends for capacity and system architecture planning 

Automated RightFax monitoring for real-time error detection and predictive management
FaxPulse MA does the work of monitoring and detection for you with metrics tracking across every system and fax transmission. With this tool, administrators can:
✓ Automate system health and performance monitoring
✓ Reduce costly system errors and downtimes
✓ Get custom alerts for errors and resolutions  
✓ Personalize data thresholds and group alert patterns
✓ Optimize system maintenance and overall health

24/7 automated monitoring of inbound fax availability for RightFax enterprise
Replace manual testing and workloads with 24/7 inbound availability testing and alerting. With this solution, administrators can:
✓ Reduce inbound monitoring workload
✓ Prevent busy signals and SLA-related fines
✓ Automate inbound availability testing
✓ Get real-time notifications when transmission errors occur 
✓ Ensure inbound fax routing success with Advanced Check 
Advanced protection, efficiency, and cost savings.
Unleash the full potential of your system with FaxPulse, offering the most advanced automated monitoring and analytics tools to date. With robust personalization options, advanced data retrieval capabilities, and user-friendly visualizations, FaxPulse delivers an efficient and cost-effective automated support engine suitable for systems of any scale.
Contact one of our knowledgeable experts to discover all the ways FaxPulse can help you optimize performance, accelerate response times, and achieve your business objectives with precision.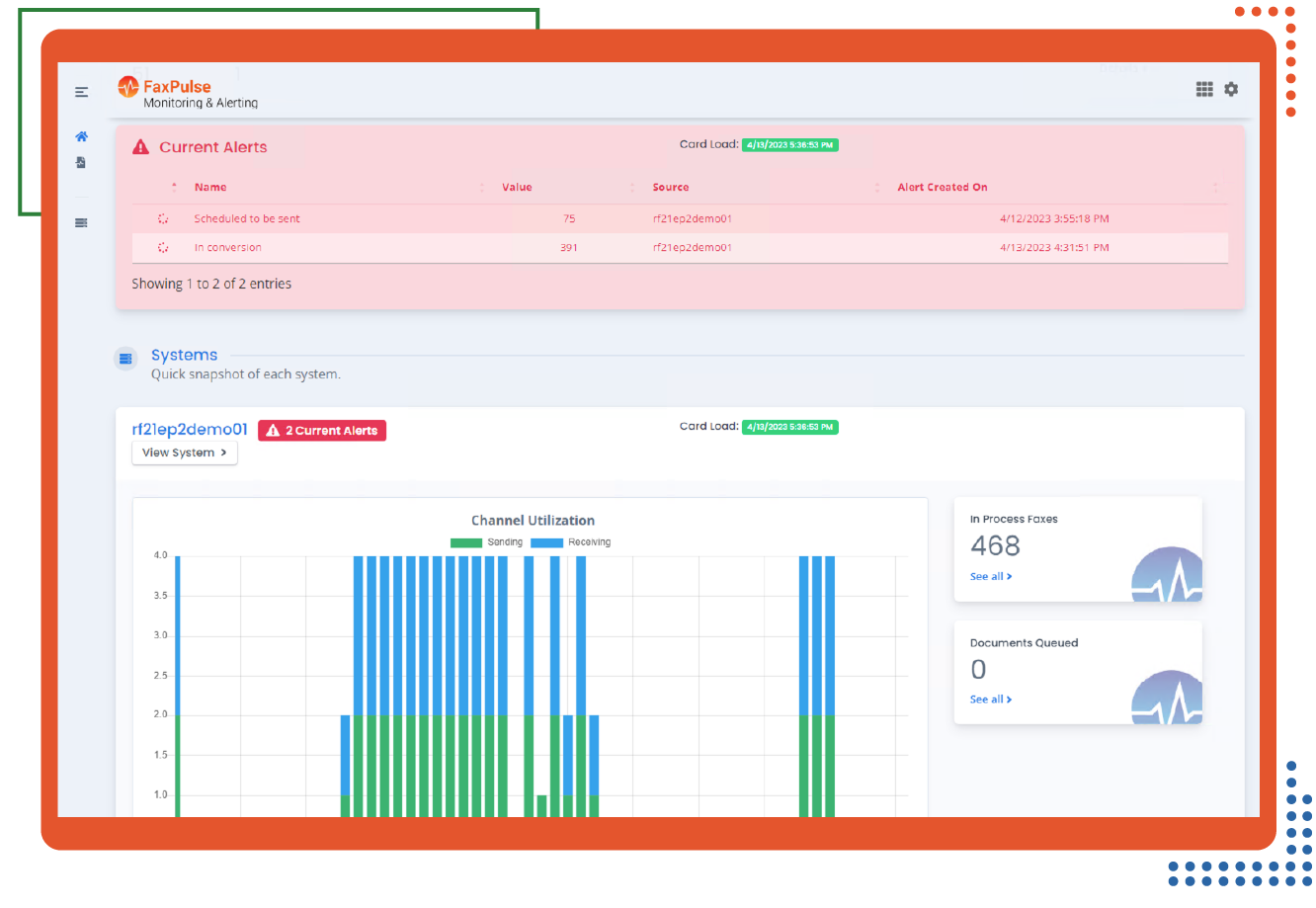 Learn more about FaxPulse