Workflow Platform for RightFax
Overview
Enhance Document-centric Workflows
Designed to maximize the value of your organizations's digital transformation strategy, the Workflow Platform for RightFax can automate manual processes, enforce business rules, and reduce human error associated with document processing.

Powerful Workflows
Simplify and speed up workflows with a flexible, customizable router client, intelligent database updates and pre-build framework.

Flexible Integration
Work with a variety of scanners, faxes, and other network devices to collect documents, scan to email, fax or storage, and more.

Proven Technologies
Maximize your faxing capabilities with support for fax over IP and cloud fax, high-speed queuing and document distribution management.

Simple Configuration
Run your workflows with rules-based configuration, centralized administration, multiple profile support, and helpful APIs.
Join the growing number of enterprise organizations leveraging the powerful capabilities of the Workflow Platform for RightFax:
Software Integrations
The Workflow Platform for RightFax offers several pre-built and configurable connectors to integrate with your organization's EHR, document management, ECM, CRM, ERP, or database applications such as: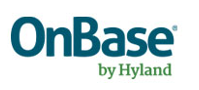 Configuration vs. Custom Development
Across enterprise organizations, one of the main themes has been a top down push from IT executive leadership to move to either develop custom integrations that improve the flow of business-critical documents, or configure a feature or extension to existing software.
While either of these strategies can be done effectively with our team, it's important to know the benefits of each method before diving in:
Configuration
Benefits:
Flexibility to handle most business needs
Shorter, lower cost implementation period
Scalability and path to modernization
On-demand exception management
On premise control w/SaaS type toolset built-in
Custom Development
Benefits:
Flexibility to handle any business need
On-premise solution
Individual specifications and builds to each individual / customer situation
Automating Processes with the Workflow Platform for RightFax 
Your organization's business processes are driven by documents and information, but manual workflows can result in a significant reduction in employee productivity with the additional challenge of lost information and human error. 
With the Workflow Platform for RightFax, your organization can automate document-intensive workflows to enable new connections, streamline secure communications, and contribute to overall digital transformation initiatives.
Understanding the problems with manual workflows: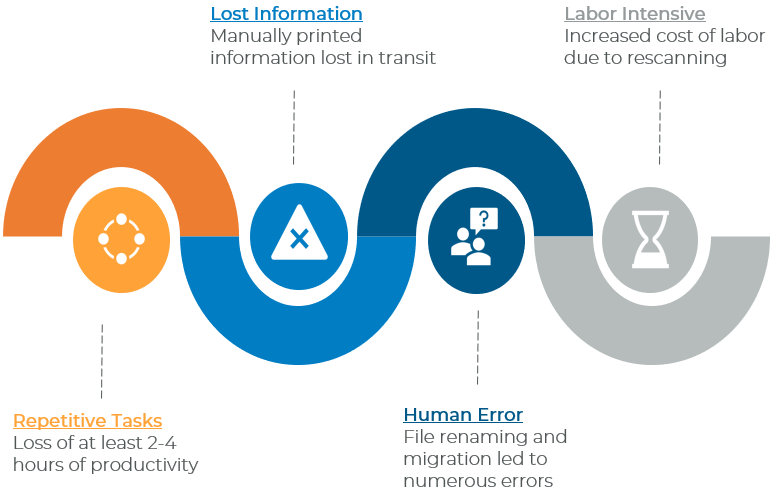 Simplifying Document Delivery Workflows:
Flexible workflow client to enable employees to view selected inbound fax documents and perform indexing, validation, or workflow tasks
Extend the life and usability of your RightFax system by transforming it into a high-demand, user-friendly, transactional capture, and delivery solution.
Pre-built & configurable connectors to integrate with EHR, document management, ECM, CRM, ERP, and database applications.
Quick Start Guide
Want to go see another section? Click ahead to the section you'd like to view :
Learn More About Fax Workflows
With game-changing automation, the Workflow Platform for RightFax offers the best-in-class functionalities you need to simplify your workflow processes.
Register for Exclusive Access to the
RightFax Resource Center
Sign-up to learn the ins and outs of your RightFax system and become an expert.